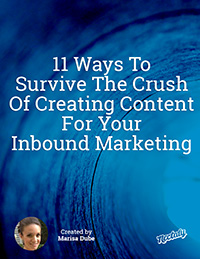 You know you need fresh, valuable content posted on your website on a consistent basis. But you already have a full-time job... how are you supposed to get it all done? Well, first, breathe—because it is possible. This free white paper is full of tips to help you through it.
Learn different ways to divide up content creation responsibilities.
Discover tools that can help you streamline how you accomplish your inbound marketing goals.
Find out where to get inspiration for topic ideas when you feel you've "run dry."
... and much, much more!